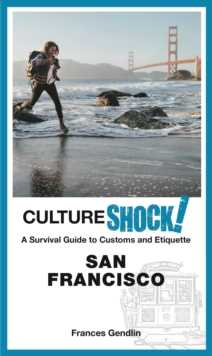 CultureShock San Francisco
ISBN 9789814841030
CultureShock! San Francisco
provides first-hand advice that will quickly help you feel at home in the City by the Bay. Come the know the city's eclectic and tenacious spirit, and understand its overpowering charm. The breaking Golden Gate Bridge suspended over the bay, the cable cars that conquer steep hills, the sun-basking sea lions and the painted ladies of San Francisco – all will move from imagination to reality in this quintessential guide. Let it show you the neighbourhoods, the restaurants, and opportunities for cultural enrichment. Let it help you through challenges any newcomer encounters, from finding and affordable home to selecting a school for your kids. And more importantly, let it advise you on how to fit in with that diverse assortment of locals who together make San Francisco truly unique.
About the Series
The
CultureShock!
series is a dynamic and indispensable range of guides for those travellers who are looking to truly understand the countries they are visiting. Each title explains the customs, traditions, social and business etiquette in a lively and informative style.
CultureShock!
authors, all of whom have experienced the joys and pitfalls of cultural adaptation, are ideally placed to provide warm and helpful advice to those who seek to integrate seamlessly into diverse cultures.
Each
CultureShock!
book contains:
insights into local culture and traditions
advice on adapting into the local environment
linguistic help, and most importantly
how to get the most out of your travel experience
---