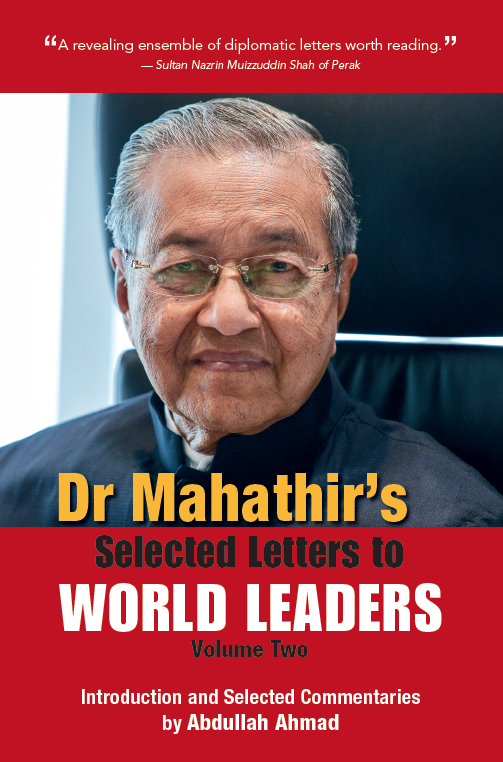 Dr Mahathir's Selected Letters to World Leaders (Volume 2)
ISBN 9789814634052
Many leaders write memoirs but few risk sharing their official correspondence with the public. This second volume of 73 letters records frank discussions on many issues of great public concern. Those from Lee Kuan Yew and Goh Chok Tong stand out because they are sharp, business-like, meticulous and detailed. Letters from George W. Bush, Bill Clinton, General Pervez Musharraf, Saddam Hussein, Benazir Bhutto, Kofi Annan, F.W. de Klerk, John Major, King Abdullah II and others are direct and simple. Dr Mahathir's letter to Pope John Paul II is the essence of the man. Always thoughtful, he wrote a warm letter to Nelson Mandela when he was released from prison.

The result is a book of opinion. The correspondents' candour is to be enjoyed, particularly Dr Mahathir's exchanges with Lee Kuan Yew and Goh Chok Tong. Whether the views expressed are far-sighted or misinterpreted by those who share or reject them, they make for inspiring reading and are a great aid to achieve a better grasp of world events and diplomacy and the personalities who shaped them.

Dr Mahathir has long stood out as one of the most consequential prime ministers Malaysia has had. His letters here make an important contribution to the man's achievements and non-achievements. They represent a good start to understanding Malaysian foreign policy, and should spur further inquiry. This book is a celebration of unusual personalities who ruled their countries between 1990 and 2003. The first volume was winner of the Popular-The Star Readers' Choice Award in 2009.
---