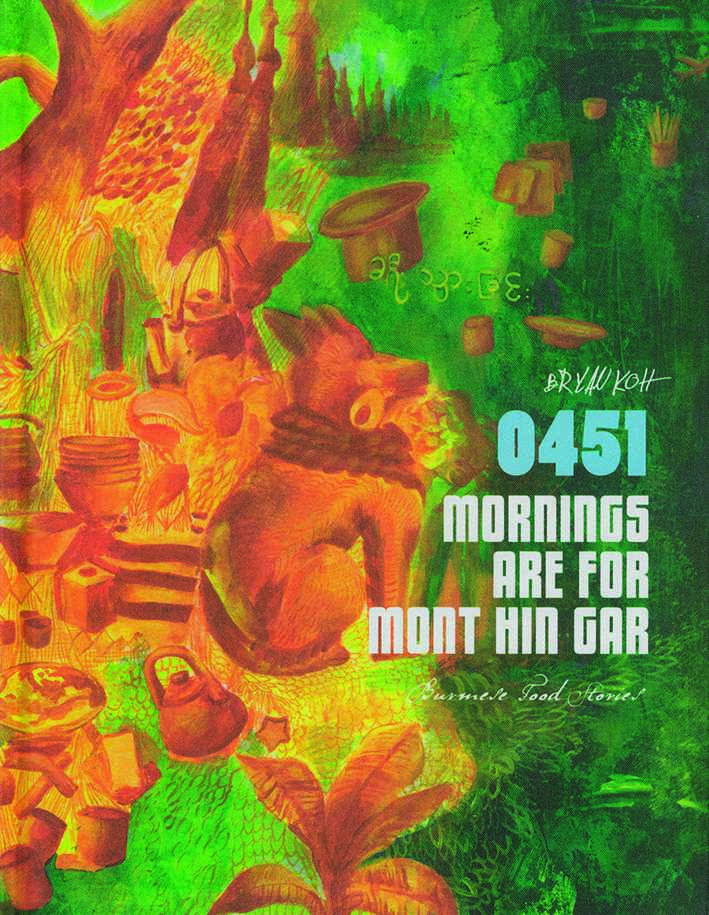 0451 Mornings are for Mont Hin Gar : 0451 Mornings are for Mont Hin Gar
ISBN 9789810959340
Both a food-centred travelogue and recipe book, 0451 Mornings are for Mont Hin Gar explores regional Burmese cuisine, taking the reader on a journey through Myanmar's vast and varied culinary landscape. The title pays homage to mont hin gar, a fish soup noodle dish that the locals usually have for breakfast.
Filling its pages are richly illustrated food stories gleaned through the author's travels all over the country, from Mandalay teashops to Waymo eateries, from Rakhine markets to Bagan and Mawlamyaing home kitchens.
Laden with information on local ingredients and cooking methods, one can expect recipes for staples, such as fermented tea leaf salad and mont hin gar, as well as more unusual dishes such as kyaing tong peanut tofu salad, Chin white corn porridge, and a curry of pork, fermented sesame paste and citron leaves from the arid central plains.
---
Bryan Koh is an award-winning author of five cookbooks. His breakthrough, Milk Pigs & Violet Gold (2014), won the Best Food Book Award at the Philippine National Book Awards. Its second edition Milkier Pigs & Violet Gold was released in 2020.
His second book, Mornings are for Mohinga, Burmese Food Stories (2015), won third place in the Best Asian Cookbook category at the World Gourmand Cookbook Awards 2016. His third book, Bekwoh (2018) focused on the food of East Coast Peninsular Malaysia, his fourth Tamu, on the food of Borneo.
Bryan majored in Mathematics at the National University of Singapore and has a Masters in Management Hospitality from Cornell University. He lives in Singapore and is co-owner of cake company Chalk Farm.
From The Same Author