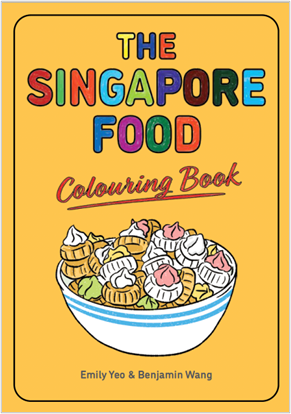 The Singapore Food Colouring Book
ISBN 9789815113396
A fun and educational colouring book filled with pictures of favourite foods to keep children inspired and engaged
The Singapore Food Colouring Book will keep children engaged as they learn to colour and recognise some of their favourite Singapore foods.

Fun illustrations of Singapore's most popular dishes
Sparks imagination and creativity in children
Improves fine motor skills, focus and concentration
High quality paper with single-sided pages to prevent colours bleeding through
Ideal for rainy days, road trips, long flights and restaurant dining
---
Although food was a great part of author Emily Yeo's life growing up, (#livetoeat) it was only out of necessity in her young adulthood that she set foot in the kitchen. After deciding the corporate life was not for her, Emily took an early childhood education course and kickstarted a whole new teaching adventure that culminated in her establishing the culinary studio, The Little Things. Along the way, she has cooked and baked with thousands of children (including her own), learning and discovering numerous recipes. She has realised that the kitchen is indeed a treasure trove of lessons, with innumerable skills to hone and creative outlets to explore. Emily's mission is to help everyone get a taste of the wonders and joys of food through her classes at The Little Things.

Benjamin Wang trained as a graphic designer but is an illustrator at heart. He runs Frus, a company that customises illustrations and designs handcrafted items, including plush toys, cards and tote bags. Benjamin believes food brings people together, and he hopes this book will spark many meaningful conversations and connections.
From The Same Author